Bitcovaut Company and Team
Our mission is to power the next generation of Bitcoin ATM
BITCOVAULT is a Bitcoin ATM manufacturer in the US. We manufacture and sell cryptocurrency ATMs in the United States and worldwide. Also, BITCOVAULT develops and provides solid, cutting-edge, flexible software that fits most BTMs manufactured in the USA, China, and other countries. We provide a full range of services, from choosing and supplying a Bitcoin ATM, to setting it up and installing the necessary software, and can help to buy a turnkey crypto ATM business.
BITCOVAULT Bitcoin ATMs in numbers:
over 350 Bitcoin Teller Machines (BTMs) were placed in the US Market since launch in June 2017;
the 1st company that provided the ability for its customers to buy Bitcoin ATMs and software online (online store);
we are a sponsor and participant of the ATMIA 2022 conference and exhibition in Orlando, USA (a popular conference of ATMs in the US);
we have one of the lowest fee charges for our software operation (starts at 1%) in the crypto ATM market;
our crypto ATM prices start at the level of USD 5699 for a Bitcoin ATM;
our offices are located in the United States and Cyprus, we sell, ship, support worldwide;
our team is 20 people plus: including the CEO, Developers team, Marketing team, Tech Support, QA team, and others;
The team behind Bitcovault
Oleg, CEO and Founder

Oleg is the founder and CEO of Bitcovault, he has more than 15 years of experience in developing and selling financial products all over the world. Oleg has assembled the first Bitcovault crypto ATM with his own hands and knows all the intricacies of this business.

Paul, Web Developer

Paul is a professional web-developer and webmaster, who implements user-friendly functionality, and sets up the store. He has extensive experience in website development and administration.

Kate, Operations Manager

Kate will help you in any difficult situation - she knows everything about crypto ATMs, she will tell you where to start and what steps are necessary to settle your crypto ATMs business.

Andrew, Marketing

Modern marketing is a complex set of tasks: texts, links, optimization, setting up an online reputation, content marketing, brand reviews, Q&A, reviews, etc.

Developers and Software Team

Content Team

Lisa - a blockchain technology content writer. She believes that the future is decentralized, and her role in this bright future is to relay the blockchain narrative.

Alice - a content writer, whose interests lay in the field of finances, DeFi and cryptocurrencies.
Don't go at it alone!
We have an on-call team for your Bitcoin ATM business needs.
Once you've made the decision to start your cryptocurrency business, do not waste time and start your journey to financial success with us today.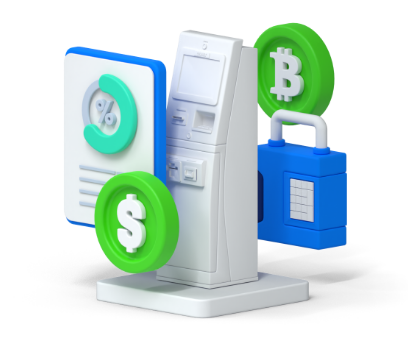 Need some answers? Just Ask Us.