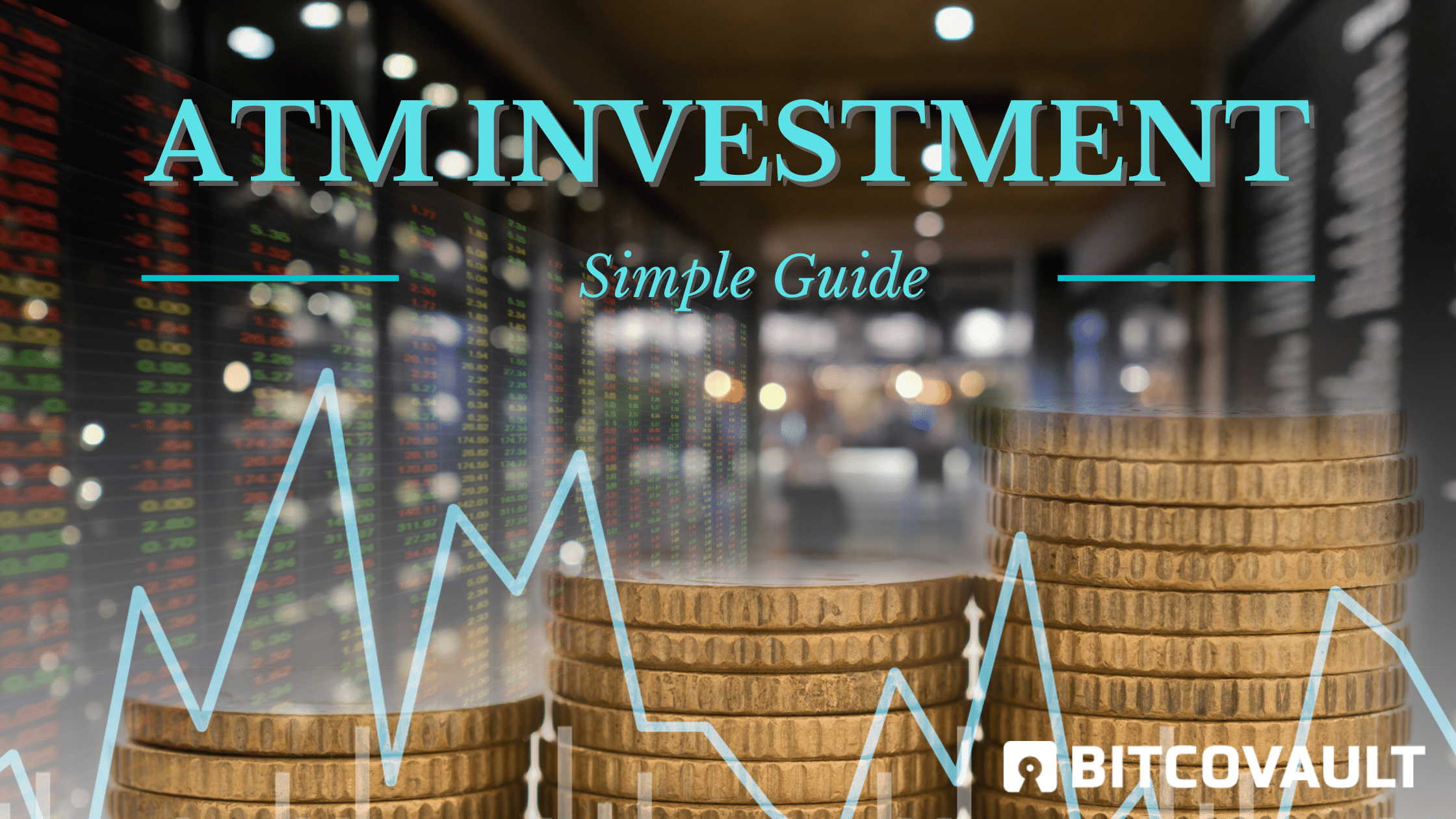 Investing in an instrument that guarantees an effective opportunity for your money to work for you is an excellent way to build wealth. Smart investment opportunities abound, but they are frequently elusive as they provide an outpaced return on investment over inflation. Furthermore, the allure of investing is its primary ability to compound return against its risk-return tradeoff.
One such interesting investment opportunity that you should not overlook or take lightly is bitcoin ATM investment. Are you wondering how to invest in ATM machines? The information below provides you with all the facts and figures you need to decide on ATM investment and how to go about investing in ATMs.
Looking for an excellent return on your investment?
Earning a regular passive return on investment is possible by owning or leasing a bitcoin ATM. This is an excellent and stable investment opportunity that guarantees a passive profit. To stay profitable, you have to be able to use as little cash as possible to maintain your steady return after your initial investment. With Bitcoin ATMs, you have a low-risk rate coupled with a high level of return on investment. With the rapid rate of adoption coupled with its rapid growth, those return rates will also continue to grow.
Why is owning an ATM a good investment?
Convenience, cashflow, and accessibility are part of the several reasons why owning an ATM is a good investment. Now more than ever, customers want to go cashless and ATMs provide them with the accessibility to get just enough cash they need to make any transaction they need to make. ATMs are a must have in high foot areas like casinos, office buildings, clubs, hotels, bars, among other locations because of the convenience it provides to its users whenever they want to use it.
Typically, you invest in the machine and place it in a merchant's business with an agreement to share a portion of the commission fee. This way, you both profit from your Bitcoin ATM. Additionally, the presence of the crypto terminal attracts more customers, which leads to higher store profits, as well. Not only is adding an ATM affordable for business owners, but it requires little maintenance or attention on their part. For your business and location business owner, it is a win-win relationship.
Other great reasons why owning an ATM is a good investment include
Tax benefits
Asides from having a constant cash flow and return on your investment, Bitcoin ATMs make its business owner eligible for tax reductions. Through section 179 of the tax code, terminal business owners get tax reductions for investing in new equipment. Through this incentive, the government allows bitcoin ATM business owners to write off their entire purchasing price during the year of purchase.
Deciding to take advantage of this tax break gives you 100% funds to reinvest into your business instead of paying it as tax to the government. Employing your bonus depreciation on qualifying assets together with section 179 of the tax code allows you to keep 100% of the money you would have paid for your bitcoin ATM.
Furthermore, you can also employ the 100% bonus depreciation to offset other capital gains. Your ATM depreciation is another way to offset the cash flow and tax liability that comes with it. Through this lens, you can have 100% profit in your pocket for the first four of a seven-year investment tenure.
Cash Flow
A storefront that has an ATM around its corner can boast of one thing – cash flow. Bringing this customer convenience is one more reason to invest in an ATM. While consumers are still using cash, the adoption geared towards Bitcoin ATMs is continually growing. Having an atm in stores and other high-traffic location makes it accessible to its users. Hence, meeting and surpassing the number of interactions needed to reach target revenue and profit.
How much cash does an Automated Teller Machine require?
Automated teller machines do not require as much money to maintain as the principal capital. In fact, the principal amount is the only big investment you would have to make to kickstart this business. ATMs cost between $1,000 to $10,000. The cost depends on several factors like the model, refurbished or new, and functionality among others.
One of the most asked questions that you are surely interested in getting an answer to is how much cash does a machine require for its daily operations? While there isn't one single answer, $2,000 to $10,000 per cassette is typically sufficient to sustain the continued operation of the machine. However, this figure greatly depends on the foot traffic that the ATM is getting daily.
How does the investment benefit my business?
Generating revenue and passive income are not the only benefits that atm investment brings. The convenience that they bring to your customer is one of the top benefits for your business. While your employees will have one less issue to deal with when customers want to pay, an atm asset is an enabler for your business.
Below are some of the top investment benefits to your business:
1. Revenue Increase
Think about the extra income that an ATM asset will add to your business. The revenue and profit that your atm business generates are standout figures in your balance sheet bottom line. This passive way of generating revenue makes a big difference in your business's total revenue at the end of the day.
2. Cash Convenience for Customers
Customer convenience is one of the few reasons that determine where customers do their transactions. For businesses that make their services and other added value easily accessible to the convenience of customers, they are top choices when choosing where to transact. For this singular reason, your business can benefit from investing in an ATM that provides an extra convenience layer to your customers.
3. Surcharge and Commission
Another interesting way your ATM investment benefits your business is that you set your rate for transactions. Of course, this influences your revenue and bottom-line profit. With you in control of this rate, you can determine how much you want to make on commission as it feeds into your business plan.
How to start your own ATM business?
Knowing how to start your own atm machine business can enable you to generate an almost passive source of income for a long period of time. Please note that it's important to take your time and explore the question from all sides, to consider everything that will be involved during the business process. Bitcoin ATM investment opportunities still look good in 2022 - the competition in the market is tough, but there is still a place for your BTC ATM location possibility.
Location of an ATM
How much you can earn in the BTC ATM investment business depends on where an ATM is located and foot traffic at that place. An atm can be installed anywhere. Inside or outside any retail merchant location, such as convenience stores, fast food restaurants, bars, night clubs, gas stations, train stations, stadiums, hotels, etc. Anywhere people need to obtain cash, an ATM business investing can make you a passive income.
Legislation
Also, when you are considering an opportunity to invest in Bitcoin ATMs, carefully investigate the issue of the regulation in your region. First of all you have to buy a license from your city government. If you plan to start your business under a business name, you will have to register it with your county clerk. Also, you can set up a business entity such as a limited liability company so that you can avoid any personal liability. For this purpose you have to file articles of organization with your state and pay the appropriate filing fee.
Bank account
An equally important point to keep in mind when you deal with an atm investment is the relationship with your bank. It is an extremely important part of this business, so we suggest you check in advance whether your bank or a bank in the area where you plan to install a new Bitcoin ATM, provides suitable options for the atm business.
Bitcoin ATM industry review
One of the most popular tendencies in the ATM industry of the last years is the installing of cryptocurrency ATMs, which allow users to buy and sell bitcoin and other cryptocurrencies. These machines run like any other ATM, yet they are equipped with the specialized crypto software that enables safe and easy transactions on the blockchain.
Return on your investment into a Bitcoin ATM depends on the fee that you are going to set up. According to the Coinatmradar Blog the average bitcoin atm fees are now at 5.5% for sell operations and 7.5% for buy operations. And the average normal monthly volume of a bitcoin atm is about $30K. Take it into account when preparing the business plan for your bitcoin atm business.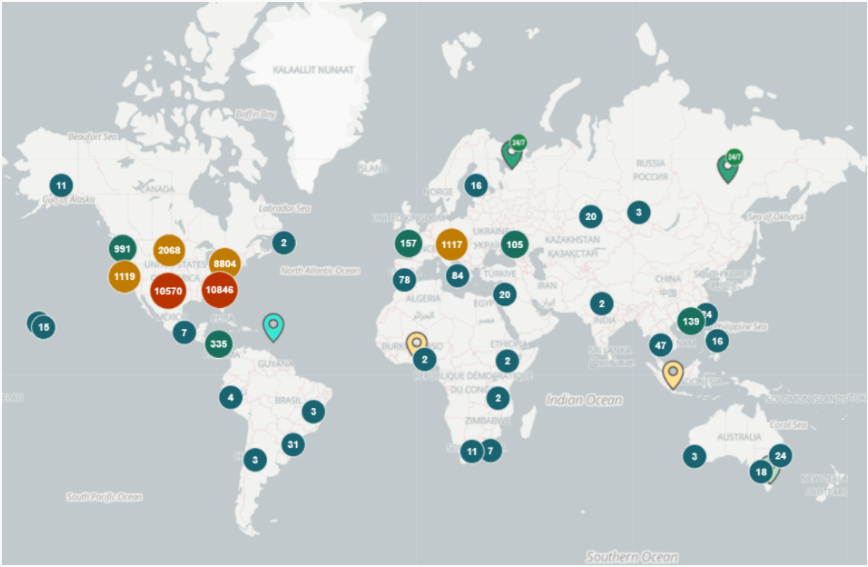 The next question is what type of a bitcoin ATM to choose. Here you can find a quite wide range of bitcoin terminals with super reliable, fast and high quality software and hardware at reasonable prices. They include one way terminals and two way bitcoin machines.
Bitcoin ATM investment opportunity
If you think about starting your own BTM business and investing into Bitcoin ATMs, what are the most important aspects you have to note?
As long as Bitcoin is gaining popularity, the business spheres related to cryptocurrency are becoming increasingly requested as well. We can observe this trend all over the world, especially in the USA. According to the information from the site www.coinatmradar.com most of the bitcoin ATMs installed are concentrated in North America - 75.71%. The second region in terms of the bitcoin ATMs' number is Europe - 20.88%. Top-3 countries are the USA, Canada and Austria. In April, 2018 compared to the statistics of April, 2017, the amount of bitcoin ATMs has doubled. Thus, we can conclude that the BTM business is developing very fast.
The process of purchasing is not complicated, you can check the stages here. But prior to making a decision whether to enter the bitcoin ATM business, we strongly recommend you to review the essential points that we highlighted below.
Business Plan. It is hard to imagine a successful business without this document. Preparation of a business plan will help you to identify your goals and evaluate your perspectives based on the resources you possess. Absence of cost and revenue planning is one of the most often reasons for BTM business failures.
Compliance with regulations. This aspect is extremely important because requirements vary significantly depending on the location, for example, some jurisdictions may require ATM businesses to get a license. Also, you must register as a money services business (MSB), create your 'Know your customer'/Anti-money laundering (KYC/AML) compliance, get special licenses, etc. If you are in the USA, for these purposes you can check a very helpful website with the online tracker of bitcoin regulation state by state. The easiest way to resolve legal issues is to collaborate with a bitcoin ATM operator, who will provide you with ready-to-use solution of BTM and software.
Bank account. If you are going to make bitcoin ATM investment, you have to open your bank account. Moreover, establishing a good relationship with a bank is important in order to minimize the risk of the BTM's business bank account being closed unexpectedly.
Location. When you are planning where to place your BTM terminal, you need to find a good location, considering safety, traffic volume, easy-to-access factor, opening hours and type of business (cafe, pizzeria, shopping mall, grocery store etc.).
BTM type. There are one-way and two-way bitcoin ATMs. Using the 2-way terminal customers can sell bitcoin for cash as well as buy bitcoin. The 2-way bitcoin ATMs are more expensive than the one-way models, but in the meantime, they help not to lose opportunities on the harsh market. Also pay attention on the possibility to adjust the fee on your terminal, that will facilitate control of ROI.
Crypto terminals investment FAQ
Finally we want to sum up our article with a bunch of most popular and important questions on crypto machines investment:
1. Is owning an ATM a good investment?
Yes, we strongly believe that this business has great potential. And in 2022, it's still not too late to start your own business in the growing crypto ATM market. To calculate the necessary investment in the business, as well as the return on investment, you can use the calculator.
2. How to invest in an ATM?
To start investing in crypto terminals, you need to follow a number of steps:
Choose your preferred Bitcoin ATM model at our online store.
Place your order by adding machines to your cart and initiating order requests.
Register AML/KYC requirements (if in the USA) with btmcompliance.com.
Secure a steady supply of Bitcoin and deploy your BTC machine to your kiosk's location.
Finally, ensure that you have adequate service cash at hand.
3. How to prepare an ATM business plan?
Usually a good and complete business plan includes the following steps:
Summary.
A description of the industry and company.
Description of services or products.
Sales and marketing.
Production plan.
Organizational plan.
Financial plan.
Evaluation of the project's effectiveness.
Warranties and risks of the company.
Appendices.
We are owners of the Bitcoin ATM business from 2017 and we prepared our own guide to starting a crypto ATMs business.
4. What is the best time to invest in ATMs?
Right now, in 2022, the bitcoin ATM market is booming, triggered by a number of factors, including the Covid pandemic, the mass move of companies to work remotely around the world, and the complication of financial interactions between people and companies in different regions.
All of these have contributed to both the development of the crypto industry as a whole and the growth in the number of crypto kiosks being installed around the world.
Crypto ATMs do not yet have as much competition as conventional bank ATMs, which are on every step of the way in the U.S. So the best time to start investing in a crypto business is today! Don't wait, contact us, we'll help you find the best option to start a cryptocurrency exchange ATM business around the world according to your needs and financial capabilities!