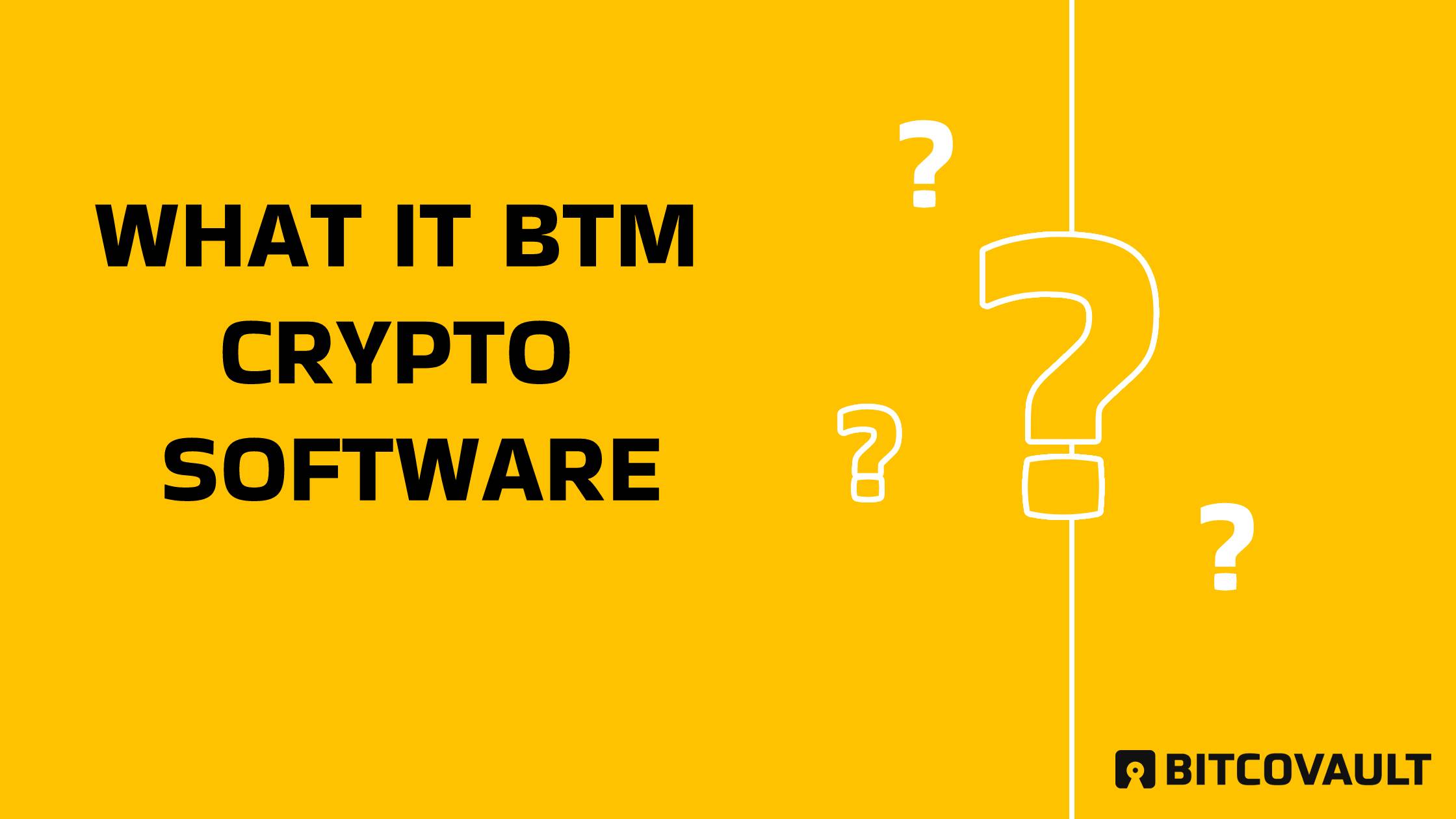 Bitcoin Software Explained
What is crypto ATM software?
Bitcoin ATMs are quite popular nowadays. Hence, it is a good idea to start your own Bitcoin ATM business. At the time of getting a Bitcoin ATM, you will need to pay special attention to the Bitcoin ATM software. That's because the crypto ATM software plays a major role in the functionality of the ATM. Let's deep dive and figure out what ATM Bitcoin software is all about. Along with that understanding, you can look around for the best Bitcoin ATM software for lease.
What is a Bitcoin ATM?
Before taking a look at the Bitcoin software for ATM, you should figure out what a Bitcoin ATM or BTM is all about. A Bitcoin ATM is nothing, but a kiosk connected to the internet, where people can exchange Bitcoin with cash. For example, you can walk to a Bitcoin ATM and simply buy Bitcoin for cash. It is also important to keep in mind that a Bitcoin ATM is not just limited to buying Bitcoin. It is possible for you to buy many other cryptocurrencies such as Dogecoin, Dash, and Litecoin from a Bitcoin ATM. You just need to make sure that your Bitcoin ATM software is capable of other cryptocurrencies.
There are some key differences that you can see between a Bitcoin ATM and a traditional ATM. For example, it will not be possible for you to exchange Bitcoin for cash with the help of this kind of machine. In other words, it will not be possible for you to withdraw any cash from a Bitcoin ATM machine. Instead, the Bitcoin ATM machines are designed to work on Blockchain transactions. The Bitcoin or other cryptocurrency equivalent as per the cash you deposit will be sent to the digital wallet. This will happen through QR codes.
Identity verification in a Bitcoin ATM
The Bitcoin ATM transaction monitoring software will also verify the identity of the users who are using the Bitcoin ATM. However, this would vary depending on the exact size of the Bitcoin transaction. This is where the ATM software will ask you to enter your mobile phone number. Then it will send a verification message for checking your identity.
Fees of Bitcoin ATM
The main objective of setting up a Bitcoin ATM machine would be to earn profits out of it. You will be earning profits based on the fee that people pay to the Bitcoin ATM. In fact, every transaction that people do with the Bitcoin ATM has a fee. However, the fee associated with the Bitcoin ATM is not something fixed. It will be a percentage, which varies based on the transaction. Different Bitcoin ATM companies have different fees as well. However, the average fee of a Bitcoin ATM is usually around 4 - 7%. Hence, people should be willing to spend 7% extra than the spot price in order to buy Bitcoin or any other cryptocurrency out of an ATM.
What are the features of a Bitcoin ATM?
There are some unique features that you can find in a Bitcoin ATM. However, you should also keep in mind that the exact features would vary from one vendor to another. If you have a highly specific requirement, you may think about seeking the assistance of a team that offers custom Bitcoin ATM software development.
One of the most prominent features that you can find in Bitcoin ATM software is security. There is no possibility for anyone to hack the system. All people who are using the Bitcoin ATM will be able to keep peace of mind and proceed with getting their transactions done. The software will be user-friendly as well.
Why are Bitcoin ATMs getting popular?
Multiple reasons are there behind the increasing popularity of Bitcoin ATMs. It is true that there are lots of online exchanges available for people to go ahead and buy Bitcoin. However, there are some bottlenecks and pain points associated with them. For example, they don't offer the desired support, privacy, and transaction times to the people. This is the main reason why Bitcoin ATMs are so popular. The Bitcoin ATM software is advanced enough to keep people away from this trouble.
A person doesn't need to have a solid understanding of how to use the Bitcoin ATM to go ahead and complete a transaction. That's because these ATMs are user-friendly, and people will only have to go through a convenient process to get the job done. It is possible for them to stay away from trouble and confusion at any given step.
All the transactions that people do with Bitcoin ATMs are instant as well. The best thing about using a Bitcoin ATM is the ability to remain anonymous. There is no need to submit any personal information such as bank details in order to proceed with a transaction. This can deliver a convenient experience to anyone.
Markets and wallets supported by our software include: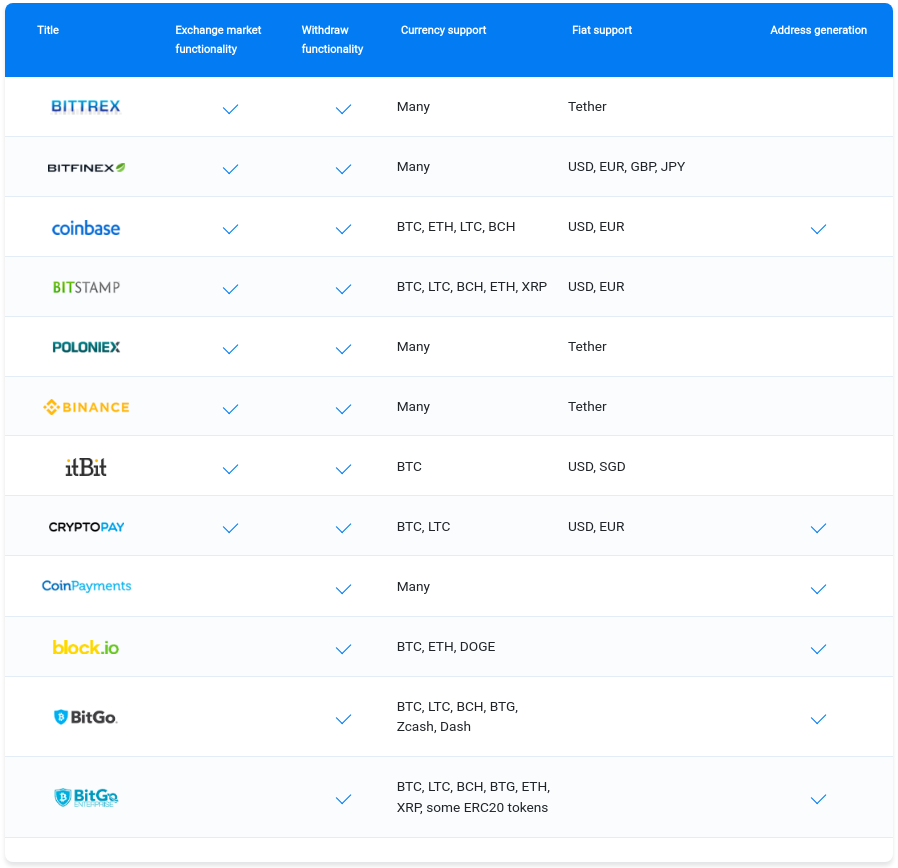 Getting a Bitcoin ATM with installed software
If you liked the idea of a Bitcoin ATM, you may think about getting hold of one. It is better if you can get the machine and the software from the same company. Then you will not encounter any compatibility issues. You will be able to start your business around this and continue to experience all the great benefits that are coming on your way with it.
This is the case with Bitcovault - you can buy bitcoin ATM and software developed by our company at one place, just give us a call or a message.